Is it possible that it's already half a year since my last post? Crazy….
There has been a lot going on so far – I shot some matches, gained new partners, got new gear, tested a lot and even changed some parts. But in Detail:
Matches!
Since my last post about the Tour de France and the Dreieich PCC match, I´ve shot some nice and challenging matches again. This season, I´m also focusing on rifle matches as last year already. Worldshoot in Sweden ahead this August!
The season started as the last years with the traditional Winterrange LII Rifle match in Philippsburg – a match organized by two local clubs, built and run by the shooters themselves. The shooters shooting on Saturday are building the match in the morning and shooting it afterwards, the shooters on Sunday are shooting it in the morning and are tearing it down and cleaning the range after there shooting on Sunday afternoon. It usually consists of 6 Stages, three shorty's, two mediums and one long course. Distances are between 2 and 50m. After several seconds and thirds on that match earlier, this time I was able to win the match for the first time! Nice start into the season!
Winterrange Rifle 2019 Overall – Winterrange Rifle 2019 Stages
After some weeks of winter break, developing and practicing, the spring break rifle was the next match on the calendar – also a LII in Philippsburg. I was highly motivated to repeat the successful shooting of the Winterrange again. But obviously, I caught a bad day this time… I was supposed to be the first shooter on our first stage in the morning (as often by a family name starting with BA….). Built and briefed as a double stage on the large 50m range in Phili. It seemed, that my morning coffee didn't work that day and I must have been still sleeping. I had to start on the "toilet" stage – and the name was program. It went like sh… The stage was a short course consisting of 5 Paper targets. Shooter started sitting on a toilet, Rifle empty standing in a rack. After signal, pull the "flushing" by a handle with a rope to open a window to see the two 50m targets for the last shooting position of the stage. I put my rifle in the rack, placed the magazines on top and waitet for the timer signal. After the beep I pulled the rope, grabbed rifle and mag, loaded, realeased the bolt catch from the right side but accidentially hit the mag release and my stage plan went south… Mag dropped on the ground, grabbed it again , loaded and shot the first three targets sideways with the red dot through a narrow window. Struggled with the bipod on the window frame, realized a bad hit and pulled the 7th round as a make up shot on the bad target. Not a big deal usually. But running to the end position to shoot the last two targets, there was a nice conversation going on in my mind now…. "3 targets – each two shots plus one make up…. is 7….. two more targets to shoot are 4 more… 7+4 = 11…. 11???!?!?!?! Yes, 11". But my mag just had 10 (German gun laws…) "so you need to reload! Reload? YES reload!!!" On that point, I was just going into position to shoot the last one kneeling from a bed. I tried the reload and obviously, that was too much action going on in parallel for my small and sleepy brain… I didn`t take out the trigger finger while reloading/going down kneeling… Suddenly the rifle went off – BANG – unfortunately not pointing on target but anywhere on the backstop. Of course – followed by "STOP" yelled by the RO…
That was a quick finish of my match this day…. Lots of long faces with mine beeing the longest….. So – lessons learned the hard way….
2019_Springbreak_Rifle_Lev._2_results
Next match was then the Area 5 regionals rifle. The years before, this year was always a LII but with nice and challenging stages and lots of tough competion. This year, the match was even announced as a LIII – absolutely correct! The match had several very nice and challenging stages with very interesting courses of fire! The match went very well for me except one stage where I had some failure to fire caused by dirt in the firing pin channel. I had to rack several rounds until it worked again, That cost some very important points which were missed in the end. But all in all I was very pleased with my match and I finished second this time. Of course – from now on my pre match routine has a new detail – inspecting & cleaning the firing pin channel to make sure that this never happens again! Lessons learned the hard way again.
2019 Rheinland Pfalz (LV5 ) Rifle LIII results Overall – 2019 Rheinland Pfalz (LV5 ) Rifle LIII results Stageresults
In May, I went to Vertus for the famous "Champage Trophy". My first Handgun match with the PCC – we had several PCC matches in Germany before but all of them were "PCC only" matches built accordingly. The Chamapagne Trophy was my first foreign big LIII handgun match with also PCC Division acknowledged.
In France (Internationally usually nearly everywhere), mags can be filled according to the IPSC rules up to 32 rounds. In Germany only 10 round mags are allowed. So I was very curious how my "sensible" old Sabre 9MM AR would behave with the long mags. Knowing how much time and effort it has caused me, to get the 10rnd mags running, I didn´t expect too much. And it came like that. Unfortunatley several srewed stages caused by mag malfunctions (double feeds etc). Anyway, the match was very nicley built and I learned a lot again by that match shooting the PCC on close distances!
2019 Champagne Trophy Overall results – 2019 Champagne Trophy Stage results
Finally the last match of the last weeks was the French Nationals Rifle in Chateauroux on the famous CNTS range https://www.cntir.com/ I've been on this range now four times for french nationals handgun and rifle and the worldshoot handgun and it's still impressive to see all these bays and the large and overwhelming scale of that range! Fantastic conditions for our sport! After having been an absolute sniper match the last year (500m targets, small handgun plates everywhere up to 200m etc) this year the match was much more also "Standard Division" friendly with more targets in the medium range of 50-100m and with max distances up to 200m. But nevertheless the match was still quite challenging and the long competitor list with lots of international top shooters did itself to put the pressure on! I had a good start with two nice stages. The second stage of our match was even a stage win for me! But then I but crashed hard on the long course of the day – shot way to slow and moved like I had chewing gum on my shoes. On top, I may have choosen the wrong tactics by throwing off the long bipod early and shooting the most targets off the stage by "attaching" (don't know the right word for it at the moment) the rifle on the barricades. Didn´t find stable stands, shot wobbly and took too much additional make up safety shots. Just lost too much time. Hits weren't that bad in the end but hitfactor was way too low. Anyway – Tried to refocus over the lunch break and came back again with some pretty good stages in the afternoon. Calculating the results so far it seemed like I was on a solid second place by that time. The second day started pretty nice also but then again I shot way to slow and secure and couldn't get the needed speed and self confidence. Lost point on point and felt the need of a really good stage to gain the lost points back. The last stage of our match was the long course with the most points of that match – 38 rounds and 190 points to get. That was a lot of pressure over the lunch break! Knowing that theres only one chance left! Anyway – This time I opened up the throttle and shot like "all in". No more make up safety shots. Just as fast as possible with high risk even on the few long distance targets. And this time it payed off! Hit the steels fast, found the positions quickly and finally I was able to win that stage with the fastest time and the heavily needed points to save my ass and keep the third place of the match! Once again the old lesson learned – never give up! – it's never over until the fat lady sings or the last shot is fired!
2019 CDF Rifle Overall results – 2019 CDF Rifle Stage results
Now it`s time to do a quick change back to Revolver for the upcoming Infinity Open! What a difference in handling! Did a quick 450 round practice session this monday – felt good! Let´s see, how it works this weekend!
New gear and new partners
I´m very happy and proud to announce that I'm now also part of the 5.11 International family! At IWA we agreed on a partnership and I´ll now complete my gear with 5.11 products! Having used the 5.11 Rush 24 backpack and the Shock 42 rifle case already I'll now also stock up on Stryke and Apex pants, more bags and clothes by 5.11
🙂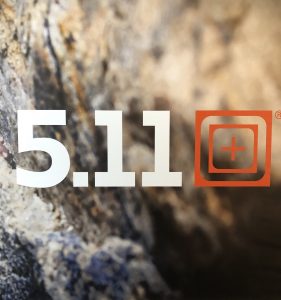 While still beeing absolutely happy with Geco handgun and rifle factory ammo, I´ve now also started reloading 223 rifle ammo with Geco and RUAG components. My preferred load is a RWS 52grs MJ bullet with once fired Geco .223 brass trimmed to 44.5mm loaded with xxx grs (please ask for details) RS40 by Reload Swiss and ignited by RWS SR primers. Very accurate match handload! Mild and clean to shoot! Try it out!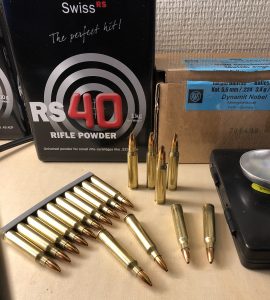 What I´ve also got in between is the new Kahles Helia RD as a red dot side optic for my 223 rifle and as a main optic for my PCC. The RD is a 2moa dot, originally designed for driven hunts. But as the dot is very bright and crisp, it can also be used for my IPSC applications. What I like very much is the indexed adjustment by clicks – no need for a locking screw or anything similar. Just adjust and forget 🙂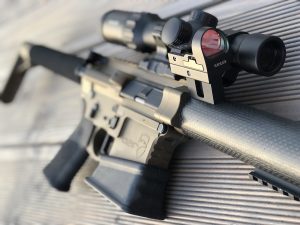 Ah, not to forget the new Rifle Mag pouch by AA1 shooting – custom made kydex carbon look with red details – perfectly matching the Rescomp CR Speed belt and the Geco colors! Lots of possible adjustments, safely holding even big mags and still easy and lightning fast draws possible – I´ve already ordered some more… 😉 The first match test at the French Nationals was great!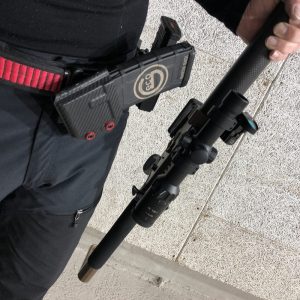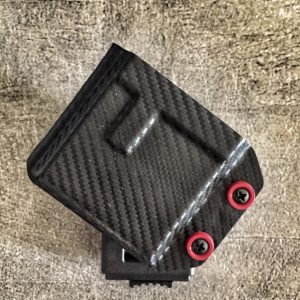 Finally, last week, I got a new handguard for my PCC – a Taccom Carbon fiber tube – german law complying a closed, clean tube handguard – but compared to the old aluminium tube now thin, great to grab and light by being made of carbon fiber – perfectly matching the feel of my DAR 223 rifle: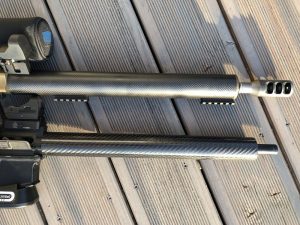 I´ve also got the new CMC PCC 3.5lbs straight trigger for my PCC but I haven't been able to test it so far. Maybe, I'll write a review later. So far, the trigger feels great – short, crisp release and reset, just as my .223 CMC triggers I´m already used to. Hopefully, I can speed up with the PCC now a bit more.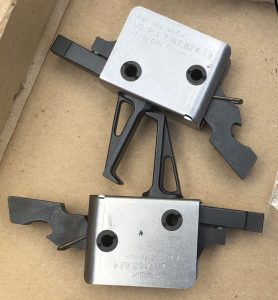 So now – back to reloading, practice, pracice, practice and some more matches as well (if there wasn't the need to work some times also…)!
Stay tuned!