Yesterday, I got a nice new gimmick from Kahles – a 8×42 bino with an integrated range finder!
I already knew, that for international rifle matches a RF might come in very handy as far away targets are often plcaed "anywhere" on the range. Not like in Germany where – due to range limits – the targets are usually nicely placed on 100m, 200m or 300m. The latest match in France confirmed that. For example, they had small metal plates on 168m distance, partially covered by the barricade – you had to aim at the top of the barricade to hit the small plate! If you do not know your zero and ballistics AND the exact target distance at least a few extra shots and seconds burned are the result!
Before just buying a cheap solution, I asked Kahles what they had for this application – this is what I got as response: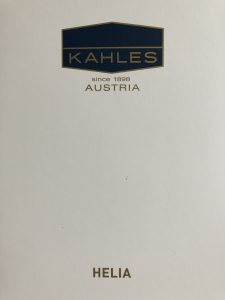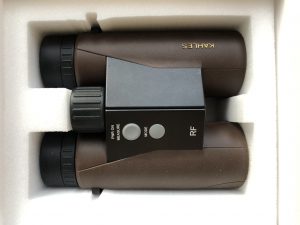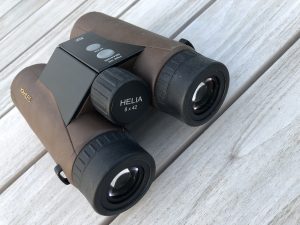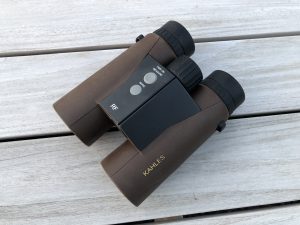 The Helia 8×42 RF is first of all a nice, top notch bino with these technical data:
But additionally, it already has a very powerful rangefinder included! The rangefinder is able to measure distances up to 1500m (1600yds!) very reliable. And it is not only able to measure the just the distance to an object – it also recognizes angles in the measurement and is able to correct the distance more precisely as the so called rifle mans rule!
The feature is named "EAC" (enhanced angle compensation). Kahles describes the feature as "To land more precise hits in angled shots, the more accurate EAC-function – an enhancement of the classic Rifleman's Rule – calculates the angle compensated distance which can be displayed alongside the standard distance measurement. While the Rifleman's Rule merely calculates the purely mathematical equivalent horizontal range, the AC function provides a more ballistically relevant basis.
The product details in an overview:
.: Easy and reliable targeting up to 1500 m (1600 y)
.: EAC-function (Enhanced Angle Compensation) for angle correction
.: Intuitive simple menu navigation
.: Premium-quality OLED display with five manual brightness settings
.: Display in meter and yards
.: Scan mode for continuous measurement
.: Extra long battery lifetime – 3000 measurements
I'm very looking forward trying the rangefinder at the Europeans in Sweden next month!
Here's a test picture of a measurement to the next tree (I'll better not upload the picture of the measurement to the church tower… 😉 )