Part II of my WSXVIII Report
After the second match day, I was very curious to see, how the results would be. Not knowing, how the other top guys from the other revolver squad would have finished (The German Revolver Team hadn't finished in the top three at the last World Shoot in Florida 2014 – because of that, we were scheduled in Revo Team Squad "two" this time. On squad one have been the Teams from USA, Austria and Brazil). I guess, you can understand how excited I was, when I saw, that I had taken the lead after day two! Again, that night was not the best for a deep and relaxing sleep… Of course did I tell myself to calm down and relax and not to think too much about the results. I wanted to just shoot the same style like the days before.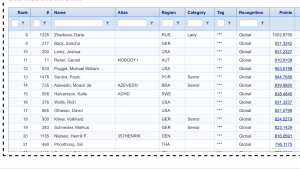 BUT. That was the theory. The next shooting day was way different. I don't know what happened – but shooting the stages of day three felt like having sticky chewing gum on the soles of my shoes and as if somebody has set my sight just two clicks sideways off-set. One after the other stage I dropped point by point by beeing slow and inaccurate. Too many Charlies and Deltas combined with slow runs very incredibly costly. And moreover, my rivals speeded up and left me far behind. It was so frustrating! Unfortunately, I have nothing to blame on. The gun worked fine, the gear was good – it was just me… I´m still wondering what happened that day. It seems, that these stages weren't be build to fit my style of shooting. I found a picture on the internet from that day – earphones plugged in with Metallica full blast trying to slap the lethargy off myself and to get back the needed aggressivity to burn down a stage. But it didn't help. I couldn't increase my speed.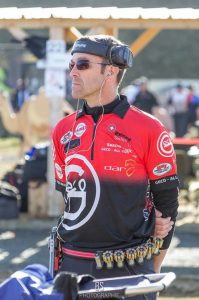 Of course, this sounds very hard now and you would think, that I shot REALLY bad. Thats not what I mean – I´m very self-critical at that point – it´s just that I wasn't able to go the speed and accuracy of the others.
This tendency continued on match day 4. I still shot solid – but just solid. Not extraordinary as it is needed to stay in the top group and on top, to get back lost points. We started with stage 26 on Thursday morning – a more or less easy short course with a small shooting box, two targets in direct front of the shooter, covered partially by no shoots and four targets build around (see the video) – it doesn't felt too bad when I shot it – but the results were. One Delta, four Charlies AND a time much slower (35%) than the stage win on that one cost 22 points allone!
heres the video of the stage:
The next long course was more or less OK then, but then again – a shortie killed my score of the day. This time, one of the most spectacular stages of the match were expensive on points for me. The stage 28 was a 9 round short course consisting of three poppers, two targets and two plates. Starting position was sitting on a "chair". By standing up, the two plates were activated – they were swinging! But that not enough, two of the poppers activated each an up-down bobbing target! So timing was vital on that one. Poppers and Bobbers weren't the problem. The swinging plates destroyed my time. Again – 15 points down on a short course…
Stage 28:

This is one of my findings of that match – It were the plain shorties where fast and dead accurate shooting was existential. There, I lost my points. I was always good, when athletics were asked. Going down on low ports, move fast over longer distances, shooting far away targets on the clock or breaking down complex stages were on my assets but when it comes to just stand and trigger accurate on close or mid range targets – others took the points. I guess, this is one of the lessons to learn and what to work on. Draw and engage small plates, cut splits on targets, far and near, is what I need to improve. It works on practice, to shoot beyond .20 splits – but I can´t do that in a match most of the time. Maybe, I should just try it once to stop calling the shots too accurate and shoot instead more instinctly. Maybe it works? I Don´t know. Anyway. The rest of this day was more or less ok. Not too shabby, not perfect also. I was just surfing the pack. I had a nice time on the stage 29, a medium course with two swingers on ca. 25m, two partials (no-shoot covered) on 20m and some other not too easy shots. The plan on that one worked fine and I shot it fast and self confident. Unfortunately, my last transition from a static beside the last two shots on the swinger was a bit too enthusiastic and there was only one hole in the end on the swinger… that cost the stage win on that stage. My time was second fastest here.
Stage 29:
But "If"and "may" don´t count…. Last stage of the day was the stage 25 – the Mover stage. Also one of the feared ones. I wasn`t afraid of the mover but I tried not to risk anything. So I shot the safe way instead of attacking it. The time was OK (20,43 – best time was a high 18) but again, my sights must have been a bit off set and so i dropped again some points.
Stage 25:
…stay tuned for the report of day 5!