(Da mir im Moment ein bisschen die Zeit fehlt, um die Match reports in zwei Sprachen zu schreiben, werde ich nur auf Englisch schreiben)
It´s been a while since I posted my last update here – I´m sorry, but the last months have just been incredibly packed. Where shall I start… after the early season matches like Munich Open and Steelchallenge, with the Infinity Open (again a fantastic match with great stages and a good score for me), the German Nationals Revolver (this time, a DESASTER match for me, but this is another Story…) and the French Nationals, the season came closer to the really big one. The Worldshoot XVIII 2017 Chateâuroux, France was right ahead. As everybody, I was curious how the new range in France will look like and how the organization will be – everybody had still the many problems in Hungary at the EHC in mind. As a preparation, I had signed up for the French Nationals held on the same range, just 4 weeks in advance – a very good idea as it turned out after my disaster match at the German Nationals. The match was a complete rehearsal for me for the WS- I booked the same hotel as I had reserved for the WS, I checked my Equipment there, learned about stages, the range, the climate there, the city, restaurants – that was just perfect. The French Nationals were a great match for me. I was able to recover from the German Nats. This time, the pressure was gone, I were hungry again to get this one and I refocused on basics and fundamentals. From the first stage on, I hit the small steel, I moved quickly and I found back to the so called "visual patience" (take the time for proper aiming to get a clear sight picture and to pull the trigger not earlier by rushing). My personal highlights were two or three 8-round stages were it was indispensable to hit all steels with the first round to shoot clean without an extra reload (and the extra time needed for that). On top of that, I was able to break down complex long courses to perfect plans with good hits and also no extras on small steel. Here are the stages I´m talking about:
One of the complex long courses (there are targets left and right which are not visible from both sides – so you had to get to both ends to shoot everything)
and my favorite 8-round stage – one target, 2 IPSC Poppers, 4 IPSC Mini Poppers, quite far away and to be shot through the window. I really took my time for aiming to shoot this one clean.
In the end, I got back a lot of self confidence which I had lost on the German Nationals by winning this match. I felt prepared for the Worldshoot!
2017_CDF_Handgun_results – 2017_CDF_Handgun_stageresults
After the French Nationals, there was the last preparation match scheduled. The HK IPSC Masters 2017, held in Philippsburg, my home range. This match turned out as a very challenging one – they had everything. Bobbing plates, a tricky medium course with a lot of steel, to be shot from tight and far positions – two poppers on 45m and two swingers on 35-40m. All in all one of the toughest matches I´ve shot this year so far. This time, shooting felt good and I was able to shoot some nice stages. Of course, I also had two or three ones where my score wasn`t as good as I wanted but I knew what went wrong and why. In the end Gerald from Austria was again a bit better (he shot a fantastic match with just minor issues on the described medium course) and so I finished second this time. But this second place felt much better than some seconds before as I got the closest result compared to him since a long time.
HK IPSC Masters 2017 Results – HK IPSC Masters 2017 Stageresults
By these descriptions you can already see, that the mental part of the game was a very important one again! Neither I haven´t lost my ability to perform well nor I haven't changed anything in my preparation or improved my skills by anything. Win or loose were very much determined by stressful phases or situations were I was able to calm down and just concentrate on shooting and focus on the match. Crazy, isn´t it? But as I´m not a pro there are many other important things in life and sometimes shooting has to stand back….
Finally – the season highlight came up. The World Shoot XVIII. I was verx looking forward to this one! Meeting a lot of friends from all over the world again and being able to shoot with the best shooters. Can you ask for more? As the French Nats had shown, the hotel choice was good, I felt comfortable with the range and everything around and the nervousness was low. The stages looked fantastic. A lot of very nice decoration and some of them still felt familiar even if they had changed a lot. Targets moved, probs on different places and some more penalties made it even harder. But still – I knew the stages and this took away a lot of stress.
Of course, shooting a WS IS stress and so I made some minor mistakes on the first stages but hey – everybody did so. After the first day, I was in a comfortable third place right behind Gerald and Josh: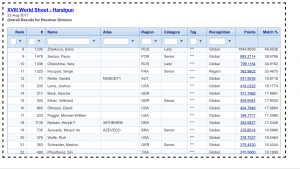 Unfortunately, the night was horrible, I couldn't find sleep. So I was afraid, of how it would go on day two were we were scheduled in the morning shift. Luckily, it tourned out, that it didn´t hurt in any way – it rather went perfect! I had a blast! On that day, I shot on my top level and I won three of the six stages – included the most feared one, a 32 rnd long course some with targets on more than 50m!
"Asterix"
alright – so far for today, stay tuned for the next days – I´ll continue soon.